"Griaß di,"
in the coziest house in the middle of the mountains of the Arlberg: the Lodge Seppaler with Stefanie and Bernhard Falch. Here you will not only find a place to relax, but in Bernhard also an enthusiastic and highly qualified ski instructor and ski guide, who will show you the mountain world from its most beautiful side!
St.Anton am Arlberg
In winter an exclusive ski resort with white peaks and in summer covered with lush greenery!
You will never get bored here! Whether you love sporting challenges or are looking for the tranquility of nature – in St. Anton am Arlberg you will find both!
3 Apartments, 1 Room
We are uncomplicated and friendly and that's what our apartments and Spatzennest (single room) radiate.
Each of them looks different, is functional and yet cozy! Simply a place where you like to stay!
9 People
We live with our maximum 9 guests "under one roof". Personally managed by us, we are contact persons from the booking over insider tips to the warm farewell – and not seldom as friends!
Ski instructor and guide in the house
Bernhard, a true "Tiroler Urgestein", starts with pleasure with you as your ski guide directly from our lodge in an unforgettable ski day! The mountains are his home and he will gladly share his enthusiasm for them with you!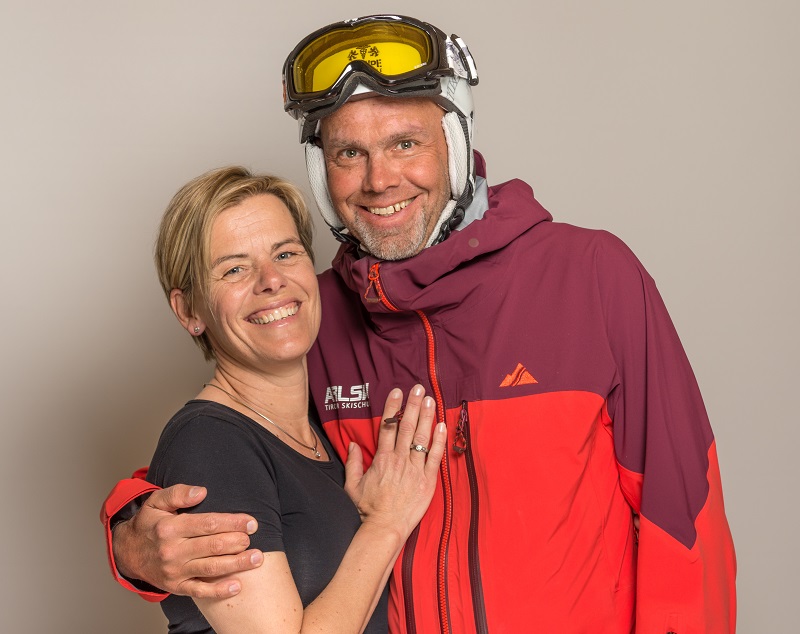 Bernhard grew up in the lodge and has always loved to joke with the guests or try out their ski boots as a little boy

He doesn't do that anymore – you can still have fun with him – in the lodge, on the slopes or with a homemade schnapps.
With Stefanie at his side, he has found a partner who brings new spirit to the lodge with her Rhenish cheerfulness, loves to laugh and shares his love of the mountains.
With a lot of heart and soul, the lodge, which by the way translates as small house, was lovingly renovated and rebuilt again and again until a place of well-being, joy and hospitality and closeness was created:
Stefanie's and Bernhard's
 "declaration of love to the mountains".
Why you should book with us
The most important reason: The interaction of the imposing mountain world that greets you every morning on our doorstep and our individual hospitality of Tyrolean warmth and Rhineland cheerfulness!
50 meters walk to the slopes – put on your skis and off you go!
On request breakfast basket or fresh bread directly to the apartment door
own parking place in front of the house
Bus stop directly in front of the house
10 minutes pleasant walk to the village
Grandiose view over the ski area and Mountain view
Quiet location on the edge of the forest
Start of many hiking routes directly in front of the front door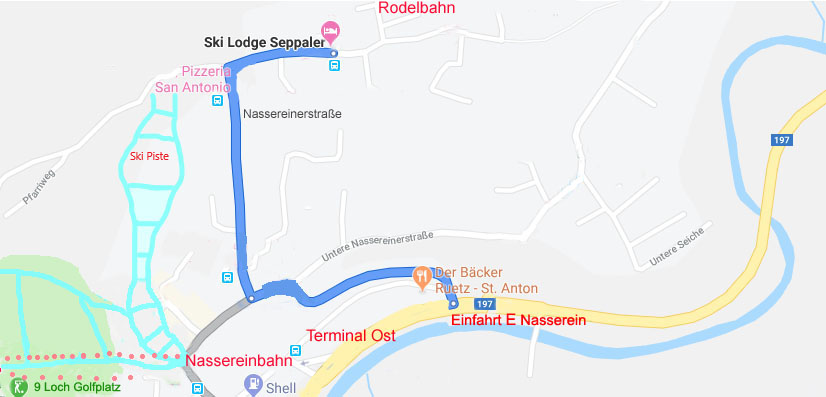 "Really nice lodge and warm-hearted hoster, clean and tidy room, provide kettle/cafe machine/hair dryer, close to gondola lift, local bus stop at the front of lodge, single room perfect for solo traveller. Enjoyed a perfect spring ski strip here."
"A top quality accommodation. Lovingly furnished apartments in alpine style. Breakfast basket and rolls are provided on request at the door. Super nice host family who gladly give valuable tips for ski area, restaurants, excursions, etc.. Ideal location, very quiet and yet central. The ski bus leaves right next to the house and takes only 5 minutes to get to the ski area. The walk to the village center is only 10 – 15 minutes. Top maintained house, highly recommended."
"One can only congratulate everyone who has chosen Ski Lodge Seppaler! For years we have been guests in this beautiful hostel and like to come back both in summer and winter. The price-performance ratio is disproportionately right in this house. The rooms are very neat, elegant and luxurious in their alpine (checkered bedding, dreamlike!) furnishings. The view from the spacious terrace of the mountains and the picturesque village is indescribable and for the stressed city dweller pure relaxation. The Seppaler is centrally located, wonderful shopping and very good restaurants are in the immediate vicinity.
The climate in the house is another experience thanks to the owner couple Steffi and Bernie. One arrives and immediately feels personally taken care of. Every wish is read from the guest's eyes and their tips are worth their weight in gold. We are abroad very often for professional reasons and know the best hotels worldwide. The Seppaler belongs to them with certainty and conviction. We are already looking forward to our next stay!"